上記の広告は1ヶ月以上更新のないブログに表示されています。
新しい記事を書く事で広告が消せます。
Soon after 1 week was gone, Kenji emailed me and showed me what he had achieved for the makeup. To my surprise, the outcome was quite what I had imagined and for once I felt that we started to establish the same wave length of thinking as a team.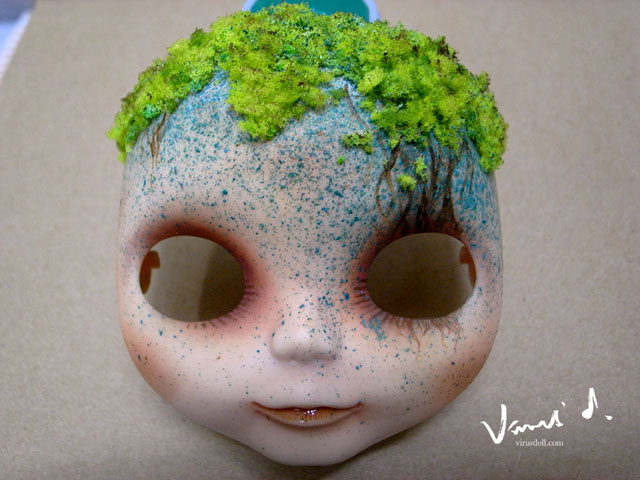 For my part, however, I'd failed to secure my plan. I had tried to work out my design but it didn't look good as I thought. Though I'd always had a backup design in case my first plan fails me, which somehow I really did, time was running short and thus I had no choice but to fix and glue the outfit directly on to the body.
"Can I do it? Cause plan 1 has failed XDDD" I wrote in my email to Kenji.
"I guess it's alright. Anyway it's for display only so I don't expect it would be turned around and stuff."
So there I went, to execute my plan 2 with the full support from Kenji. To let him grasps what I meant, I drew him a little draft of the outfit before hand and followed by some photos of the outfit once I'd got it done.
2 weeks had passed by without any hints and it was time to merge our parts together.
Before heading up to the Nursery at night that day, we went for a little shopping and grabbed whatever looked promising even though we didn't know what to do with it: 2 bags of dried flowers, a huge foam board decoration for garden, some rattan stripes, and a ring of silk flowers.
Since Kenji hadn't had his dinner, so while he was eating me and Carey, Kenji's girlfriend, started to assemble some minor things together like eyelashes, cutting off the hair from the scalp and merged the eyes mechanism back in place since Kenji claimed he didn't know the structure. When he finished his late dinner as well as having enough play with the notebooks and cell phones with my boyfriend Lewis, we then began combining the rest of the parts into one.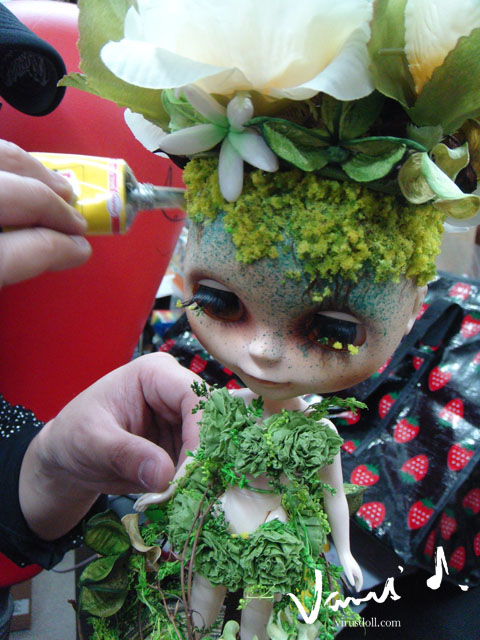 Looking at the big foam board deco we bought, I said, "It would be nice if the doll could seat on the top… The cage wouldn't be able to bend though… How about treating it as a stand?"
Without a word Kenji dug 2 holes on top of the deco and buried the feet of the doll there. In order to fix it in place, I handed him a stick that came from nowhere (as there's been lots of stuff in the workshop) and used it as a support so that the doll could stand still.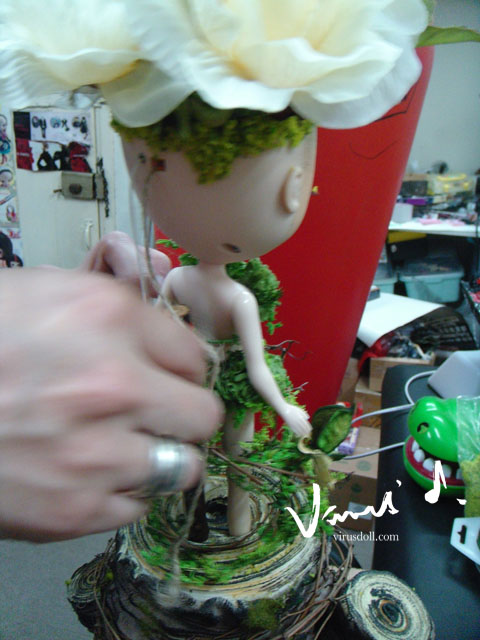 Pulling out the rattan stripes, he draped them around the foam board deco, which now became the base, and hanged some around the cage as well as the dolls hands. Everything looked match.
"You'd never know when the useless stuff becomes handy," Kenij smiled.
"Oh! Wait," I exclaimed, as I nearly forgot about the pull rings simply because I was so used to Pullip which doesn't have one. From nowhere again there came a green ribbon lying near so obviously it became one of the pull rings at the back, and the other one I managed to use a brown rattan ball.
So here it was, completed at 2 a.m. in the next morning, the first customized Blythe of Virus'd. Since there were 6 white roses on her head, Kenji named her "Wants to be yours" – the meaning of having 6 flowers in a bouquet.
"But how are they gonna ship it to Thailand? It's just huge and even if it got there, I doubt that they would know how to combine it if they chop it into pieces for shipment." I asked.
"Leave it to Siu Ding to solve it. We've done our parts haha!"
P.S. R.I.P Want to be yours as it was burnt to ashes together with the other dolls inside the shopping mall during the riot in Thailand recently. Here's the last picture of her that my friend took in her last visit to Thailand in March…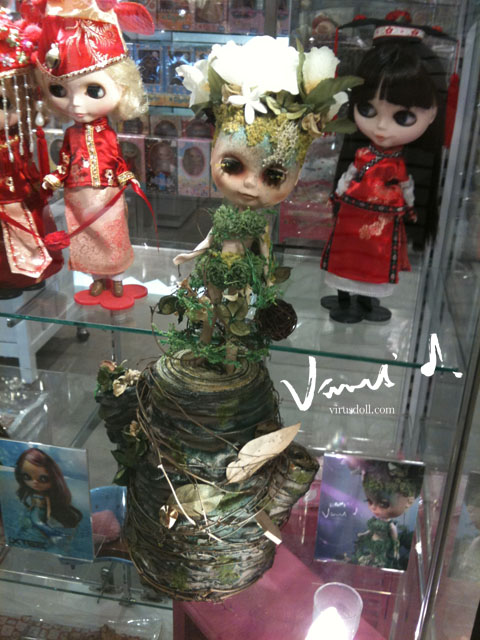 スポンサーサイト
● COMMENT FORM ●
トラックバック
http://virusd.blog61.fc2.com/tb.php/21-fc8e9f0c
この記事にトラックバックする(FC2ブログユーザー)
Chapter 16: Steam Punk Series « | BLOG TOP | » Chapter 14: Princess of Love