上記の広告は1ヶ月以上更新のないブログに表示されています。
新しい記事を書く事で広告が消せます。
Finally got time to collect the feathery girl from Kenji after work.
I didn't plan to stay for long, but since he said he just received the sample of the first Asia limited Pullip – Sala, I couldn't resist having a look at her.
From the news available, the US limited Pullip – Lala looked spectacular. Still, when Sala's first production photo was out on the net, I was deeply attracted by her pretty melon color hair even many had commented the total look of her seemed odd.
After we arrived at the Nursery, Kenji pulled out a brown plastic bag and handed it over to me.
"What's that?"
"Sala."
"Huh???"
"That's how they mailed me."
I took off the bag and there she was with her pretty melon color hair. Her hair even looked a bit sliver white under the florescent.
"Oh, you can take it home to play around if you like, only if..."
"If I can give you back some photos?" I said quickly before Kenji could finish his sentence and he laughed.
Frankly speaking, I had zero idea on what to shoot… Hence I ended up just shooting in the area around my house.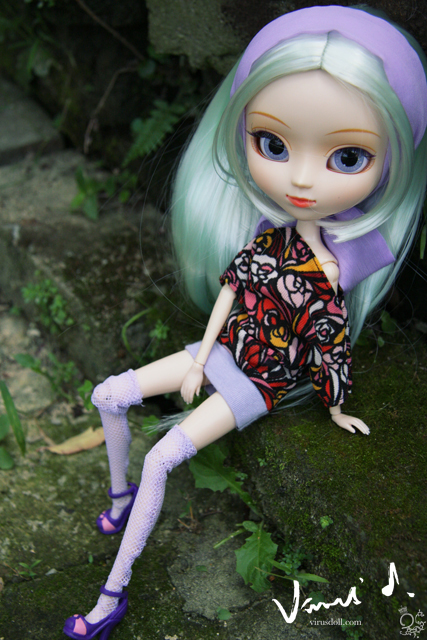 Far from good but I couldn't do anything better for that moment…
スポンサーサイト
● COMMENT FORM ●
トラックバック
http://virusd.blog61.fc2.com/tb.php/12-a4c4721d
この記事にトラックバックする(FC2ブログユーザー)
Chapter 9: Distorted World of Dr. Slump « | BLOG TOP | » DOLL CARNIVAL 2009  ~ Nouvelle Ouverture ~