上記の広告は1ヶ月以上更新のないブログに表示されています。
新しい記事を書く事で広告が消せます。
This entry's gonna be lengthy, please excuse me, as the memory was still fresh and exciting!
Ever since I was into the world of Pullip, there wasn't any sort of official Pullip exhibition in Hong Kong except the one which was held on 2006. And as a little visitor at that time, everything happened on that day to me was a life-time carnival and so much I wished they would have something similar once more.
Couldn't imagine after nearly 6 years there would be another official Pullip show taking place in Hong Kong and, what's more, I was able to participate in the Show as one of the Officials! With this opportunity as well as per the instruction of Kenji, I'd be giving a full account of the event hereunder!
Before going into the photos, let me give all of you some background of the Show.
In order to celebrate the acquisition of the world-wide patent right of Pullip, as well as to assist the non-profit charity organization, Sowers Action, in raising fund to support their charitable act, Wealthyfull Co. Ltd. had cordially invited Groove Inc. to have its first appearance in Hong Kong on 29th May 2010. Though it was only a one-day exhibition, Groove Inc. had showed its full support not only by bring many incredible proto-types and samples of future releases all the way from Japan and Korea, but also Ms. Mango Park, the designer of all Pullips, came to Hong Kong and attended this special event too!
Kenji and a few friends had started setting up the venue, I-Square in Tsim Sha Tsui, at 9-ish in the morning. I joined them at near 10 bringing Schnee Kristall with me as I'd taken her from Kenji for the showcase photo shooting and he would like to feature her in the Show. After several exchanges of "Good Morning", I handed him the doll before I started to help the rest to unpack the samples and posing them in their positions.
With an hour or so hard work, we had managed to get all the dolls posed. The exhibits were divided into 4 main sections: Past, Present, Future and Customization. Obvious enough, for the Past and Present section they were dedicated for displaying some past and present releases. And for the Future section it was dedicated for the amazing proto-types, while the Customization section had shown 3 of the most creative customizers in Hong Kong: Agnes, Kenji (of course) and Jerry (new member of Virus'd!).
Custom by Jerry.
Custom by Agnes.
Custom by Kenji.
Other than dolls, the show also presented some of the coming products too!
Time was near noon, and the crowd started to grow. And when it was 3 in the afternoon, the most waited moment came - the opening ceremony! Besides Ms Park, the organizer also invited one of the famous models in Hong Kong – Ms. Jessica C. as guest of the day and dressed her up as a 1:1 Pullip Eos!!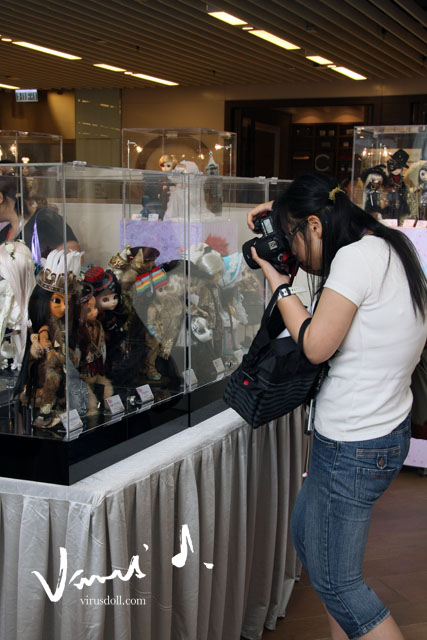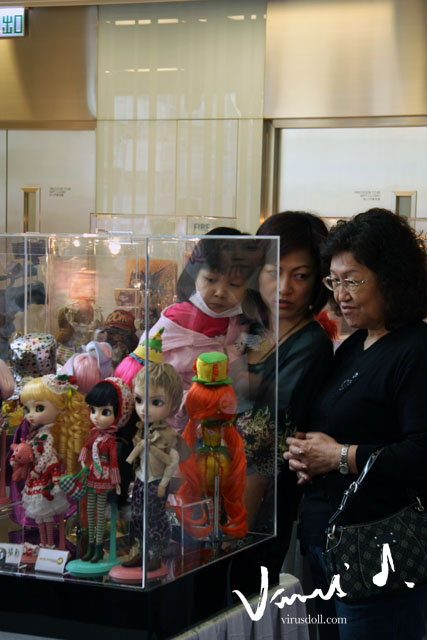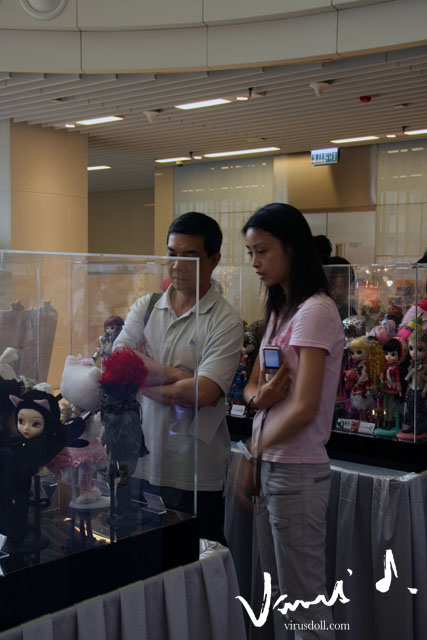 Though it's a one day event, according to the official this was just a beginning of everything. Very soon in July there will be another similar event coming in Hong Kong, and Kenji, Jerry & I will definitely bring you the news of it immediately! ^o^/
スポンサーサイト
NEW ENTRY « | BLOG TOP | » OLD ENTRY